Samurai Sudoku
The Samurai Sudoku puzzles is another variation of the original Sudoku Puzzles made popular by the Times Newspaper. The game is essentially the same except it consists of 5 sudokus which are linked via the centre one, which will provide even the experienced Sudoku Addict with a good challenge.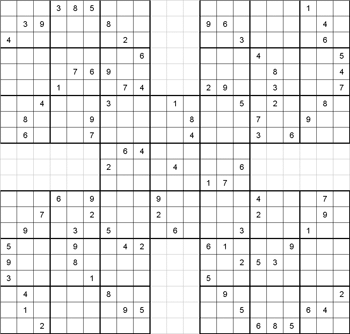 Samurai 1 - Download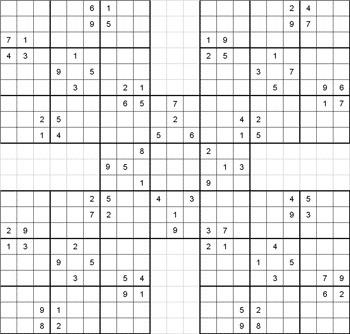 Samurai 2 - Download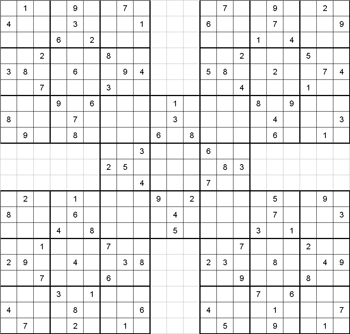 Samurai 3 - Download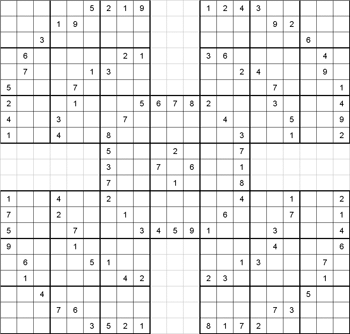 Samurai 4 - Download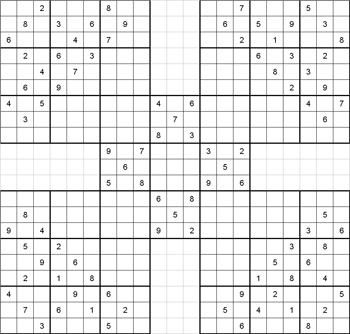 Samurai 5 - Download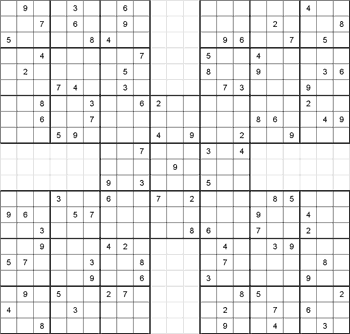 Samurai 6 - Download
The Samuria Sudoku's above can be downloaded in a printable word document for you to easily print and solve. Although I must warn that these samurai puzzles are seriously addictive and can take a long time to solve. So beware! The answers to the samurai sudoku's can be downloaded below if you get stuck or want to check your answers.
Solutions
Samurai 1 Solution - Download
Samurai 2 Solution - Download
Samurai 3 Solution - Download
Samurai 4 Solution - Download
Samurai 5 Solution - Download
Samurai 6 Solution - Download
---
84 Comments
Great, thanks, would love some more, find the normal ones too easy now!! Love a challenge!!
Comment 1 by Linda. Made on the 18th Jul 2005.
Really love the site. look forward to seeing more of the Samurai puzzles if possible, even though they drive me mad.
Comment 2 by Pete. Made on the 18th Jul 2005.
Fantastic effort. This is s remarkable site and I wish all the best to you. Would appreciate more such puzzles and Solutions.
Comment 3 by M S Bajaj. Made on the 19th Jul 2005.
Can't wait to see more of these puzzles.

I am well and truly addicted!
Comment 4 by Claire Griffiths. Made on the 19th Jul 2005.
Great thanks alot love doing these never done a samurai should be interesting :)
Comment 5 by Simon Haddleton. Made on the 19th Jul 2005.
hi im writing a book about sudoku now. I wonder if those samurai puzzles is your own maded. And i wonder if i could use them in my book?
Comment 6 by Zeven. Made on the 23rd Jul 2005.
Samurai puzzles are great but No. 2 has a mistake in the top left big box. I can't solve it! Your solution shows 3 5's in the same box!
Help!
Comment 7 by Michael. Made on the 02nd Aug 2005.
Hello Michael,
Iam glad you like the puzzles. The Samurai Sudoku Puzzle 2 is correct. However the solution is wrong. The middle 3x3 square in the top left 9x9 square is incorrect. It should read as:

6,1,2
9,8,5
7,3,4

Thanks again for pointing this out. I have now updated the solution page to reflect this.

Daniel Mitchell
Comment 8 by Daniel (Site Owner). Made on the 02nd Aug 2005.
Theres a mistake in the solution on puzzle 3, row 6, column 18, its says 7 but the correct answer is 8
Comment 9 by James Morgan. Made on the 03rd Aug 2005.
You are correct James, I have now fixed the solution page with the correction made. Thanks again!
Comment 10 by Daniel (Site Owner). Made on the 03rd Aug 2005.
Are these original samurai created for this site or do they come from some other source? The exact same ones appear on http://sudoku.heebie,co.uk and I'm sure I've seen a couple of them somewhere else too.
Comment 11 by Paul. Made on the 05th Aug 2005.
Hello.
You have hit upon a raw nerve. These puzzles here have been up well before the Heebie site. These puzzles I have got from friends who have sent them to me (Therefore I do not own them or claim to as they are likely to have been copied from newspapers). I have then painstakingly copied them into a much nicer format so they all look the same and are neat. I then did the same for the answers. However I have not watermarked them and therefore the owner of the Heebie site found it easy to just simply copy the puzzles and present them as his own. (unfortunately I have no way of stopping him from doing this.) If you are a more advance computer user you may be able to date my puzzles and then date the site and pdf document on the heebie site and see that he has set his site up at a later date than mine and thus the puzzles in the format that they are in orignally came from my site. (However as mentioned earlier I did not create these puzzles. I simply set them out neat in the word documents to benefit fellow sudoku fans)

I hope this clears this issue up.
Comment 12 by Daniel (Site Owner). Made on the 06th Aug 2005.
Hello.

I am the owner of the heebie site. I am aware that you own the copyright to the images, but not the actual samurai su dokus.

I can put them into my own grids if you like.

I am sorry if I have caused trouble - the aim of my website is to collect/gather information about su dokus from around the web and present it to the public.
Comment 13 by "heebiejeebieclub". Made on the 06th Aug 2005.
Hello,
Thanks, I appreaciate you are trying to help. Although it would have been nice for you to have dropped me a line via email to check with me first.
To save you hassle you do not have to put them in your own grid. Although it would be nice if you could credit this site.
Cheers,
Daniel Mitchell
Comment 14 by Daniel (Site Owner). Made on the 06th Aug 2005.
Are you going to upload any more samurai sudoku puzzles in the near future
Comment 15 by James Morgan. Made on the 06th Aug 2005.
Hello, I have added another Sudoku Samurai Puzzle today. I hope to add more when I can find some more. I have not yet done the solution so if anyone completes the puzzle it would be helpful if they could send me the solution.
Thanks in Advance.
Comment 16 by Daniel (Site Owner). Made on the 07th Aug 2005.
Hi there

the samurais are awesome.. but number 6 has errors.. is it possible to get that one fixed? very quickly the puzzle cannot be solved because of the lack of places for the 7 in the top left grid, middle right, centere column.
Comment 17 by Mike Green. Made on the 08th Aug 2005.
I notice that these are the Samurai Sudokus that appear in the Saturday editions of The Times. Have you consulted them about the copyright, or even the solutions which appear one week after the puzzles?
Comment 18 by Bimla. Made on the 08th Aug 2005.
Helo to all adicted.
Seen that a solution can't be downloaded for
Samurai Sudoku No.4 I've resolved it and I will like to uppload the solution but I dont know how.

Comment 19 by Reuben Karat. Made on the 12th Aug 2005.
I would just like to say thankyou to Reuben for sending me the solution to the Samurai Sudoku Puzzle 4. I have now added it to the site so that you can download it.
Thanks again
Comment 20 by Daniel (Site Owner). Made on the 12th Aug 2005.
Muy muy bueno. Gracias.
Comment 21 by Enrique (Alicante/Spain). Made on the 13th Aug 2005.
Hi daniel,

great samurais. Are you sure puzzle 5 is correct. I got stuck and can't seem to find the 'gate' to the solution. If you're sure the puzzle is correct, I've done something wrong and got to check.
Rgeards,

Frank de Groot
Comment 22 by Frank de Groot. Made on the 14th Aug 2005.
I thnik the puzzle number 6 is still not ok. Any news on this?
Comment 23 by Eduard. Made on the 16th Aug 2005.
Hello, Thanks for pointg out any problems. However could someone please try and point out where the error is? Ive been very busy at the moment and have not had chance to complete and check puzzles no 5 and 6. If someone could confirm that they are correct or not and help me find out whats wrong that would be greatly appreciated.
Thanks again
Comment 24 by Daniel (Site Owner). Made on the 16th Aug 2005.
I've had great fun doing your samurai sudokus. Puzzle 5 is definitely solvable but puzzle 6 has errors on the left hand side. If you try placing the 7s then the only way is the have two in the same line which is obviously incorrect!
Comment 25 by Ben Trevail. Made on the 16th Aug 2005.
BUENO, CHUMARI ME HAS CONVENCIDO Y LO INTENTARÉ, PERO LO VEO CRUDO, NO SÉ
Comment 26 by JOSE ANTONIO. Made on the 17th Aug 2005.
Okay, Ive worked out where the error is on samurai 6. The 7 in the large top left square. In the bottom middle medium square is positioned wrong. It should be:
- , - , 3
- , - , 7
5 , 9 , -

I have now updated the puzzle and it is now correct. If someone could send me the solution that would also be helpful.

Thanks again
Comment 27 by Daniel (Site Owner). Made on the 17th Aug 2005.
Ive added the solution to the samurai puzzle number 6. I would like to thank both Ben Trevail and Lorraine Hill for sending in the solution to me.
Thanks again
Comment 28 by Daniel (Site Owner). Made on the 17th Aug 2005.
Trying to download the Samurai 6 solution I keep getting the #5 solution. My mistake or my computer's?

Frank de Groot
Comment 29 by Frank de Groot. Made on the 17th Aug 2005.
Sorry, My fault. I put the wrong link on. Its fixed now.
Comment 30 by Daniel (Site Owner). Made on the 17th Aug 2005.
I told you that number6 was wrong and even told you how to fix it.. Why did you then ask for the correct version???
Comment 31 by Mike Green. Made on the 18th Aug 2005.
Yes you told me that there was a fault on the puzzle and it was to do with the 7. But you did not say where the 7 should be thats why I needed the solution. Also I needed the solution because people were requesting the solution and I have not had enough time to do the solution myself.
Comment 32 by Daniel (Site owner). Made on the 18th Aug 2005.
Many many thanks for your puzzles.I spent a whole day doing number six ( even though I knew there was a mistake ),somehow it made it all the more challenging.Please keep the sit going. I have thought about trying to create a samuri but the task is awsome.You have my respect and admiration.
Comment 33 by lorraine. Made on the 19th Aug 2005.
Awesome site. I've been looking everywhere for a decent collection of Samurais. Keep it up!
Comment 34 by Pete. Made on the 22nd Aug 2005.
Sudoku samurai is great! I´m waiting every sunday my uncle buy EL PAIS for doing it. During the week edit simple sudoku but on sunday the samurai one. I haven´t any this moment I´ll try to recover some and send them to you. Thanks
Comment 35 by Lorea (BILBAO). Made on the 25th Aug 2005.
Hello.

Thanks for samurais. It´s great. I would like to have some more.If you Know where to find it, some people from Spain would thank it to you.

ÁNIMO A TODOS. A POR MÁS SAMURAIS.

MADRID
Comment 36 by CHUMARI. Made on the 07th Sep 2005.
solution to puzzle 2 does not open
Comment 37 by ask. Made on the 07th Sep 2005.
I've completed number six all right, but there's still a mistake in the solution. In the bottom left sudoku, second row, there are two fours on the same line. It should be:
7,6,3
4,1,5
2,9,8

Congratulations on your site!
Comment 38 by Marga (Bilbao). Made on the 11th Sep 2005.
Hello,
You are correct. Thanks for pointing this out to me. I have now fixed the solution page.
Thanks again
Comment 39 by Daniel (Site Owner). Made on the 11th Sep 2005.
you all smell of cabbage but the sudokus are cracking
Comment 40 by fred dibner. Made on the 12th Sep 2005.
Hello, I have been trying to solve the first samurai for 2 weeks and I solved it quite fast but the sudoku on the top right corner. I was trying to solve it without taking risks but it was not possible. Then, I tried to take some controled risks and I finally solved it. Then I went to the site to check my solution and it was not the same than yours (only in this top right sudoku). My question is: why is it happening? I thought there should only be one solution.

Anyway, thanks for your samurais.
Comment 41 by Eladio. Made on the 18th Sep 2005.
hmmm, thats quite interesting. Prehaps you could send me your solution to the samurai and Ill give it a quick look over.

Glad you like the samurais
Comment 42 by Daniel (Site Owner). Made on the 18th Sep 2005.
no hay nadie que hable español
Comment 43 by yolanda. Made on the 19th Sep 2005.
voy a intentarlo, ya os contare
Comment 44 by yolanda. Made on the 19th Sep 2005.
Yolanda, yo he pensado lo mismo que tú.....será posible que nadie hable español tan solo tu y yo en esto de los sudoku samurais. Yo he echo el 1º y te lleva unas horas....paciencia y mucho ánimo que es superentretenido. Para cualquier cosa que me quieras decir: mamontel@hotmail.com
Comment 45 by Manuel. Made on the 21st Sep 2005.
Yo también hablo español :P

... están genial los sudokus samurais,... lastima que no haya mas...

En un periódico de Asturias (La Nueva España) ponen los domingos un Sudoku que se llama Harakiri... que en lugar de combinar 5 sudokus... combina 8!!!

Hoy terminé el primero con el que me puse

Un saludo
Comment 46 by Rob.. Made on the 22nd Sep 2005.
Hi Daniel
Great site - thanks.
Number 3 is the hardest Su Doku I've seen and I'm having a real problem getting a lead into it. Numbers 1 & 2 were fine. It feels like I'm missing an entire thread of logic. Are you sure there's enough info to start it off? Any pointers greatly appreciated.
Janie
Comment 47 by janie. Made on the 25th Sep 2005.
Esto es una pasada. Voy por el tercero y cada vez engancha más. ¿Algún foro en español o más samurais en la Red?
Comment 48 by Ab.. Made on the 26th Sep 2005.
I thin that this type of SuDoku is great and you should seriously print more than 5 so we have more time to enjoy the wonderful world of SuDoku!!!
Comment 49 by Rachel Pennicott. Made on the 26th Sep 2005.
Yo soy asturiana y he hecho los 2 sudokus harakiri q se publicaron en la nueva españa. Llevo mucho tiempo haciendo sudokus. Es un vicio!! Besos a los españoles!!
Comment 50 by Maria. Made on the 29th Sep 2005.
si quereis puedo mandaros alguno de los harakiri q publicaron.mi mail es mariarodilla@hotmail.com. Saludos!!!!!
Comment 51 by Maria. Made on the 29th Sep 2005.
¡No sabemos todos apenas hablar inglés!
I said:
Can't we all just speak english!
Comment 52 by Prody. Made on the 30th Sep 2005.
OK!
Comment 53 by Robert. Made on the 03rd Oct 2005.
Hi, Daniel. I've really enjoyed your samurai sudokus, but I have a problem: I need more!!! Please!!! (Sorry for my English.) Traducción: Hola, Daniel. Me he divertido mucho con tus sudokus samurais, pero tengo un problema: ¡¡¡Necesito más!!! ¡¡¡Por favor!!!
Comment 54 by Laura(Málaga). Made on the 11th Oct 2005.
no.3 actually has multiple answer.the link is not sufficient.
Comment 55 by harry morianto. Made on the 12th Oct 2005.
DONDE PUEDO ENCONTRAR SUDOKU DE 16X16?
Comment 56 by MONTSE. Made on the 13th Oct 2005.
Hello Daniel and everyone!!! Starting to get addicted to them too! Only done those at El Pais on Sundays. Can't download them though, says it doesn't exit. Any clues? Thanks
Comment 57 by Maite. Made on the 13th Oct 2005.
For all you Samurai Sudoku addicts, I've found the perfect site and it's FREE! It has thousands of random generated Samurai Sudokus - medium or hard difficulty.

http://www.binaryworlds.com/sudoku/

Enjoy!!!
Comment 58 by Claire Griffiths. Made on the 18th Oct 2005.
I'm having trouble in samurai sudoku puzzel # 2.Please help.
Comment 59 by Tina. Made on the 20th Oct 2005.
have a sution for the answers
Comment 60 by lauren. Made on the 21st Oct 2005.
Thanks...for driving me insane. But, in a good way!
Comment 61 by William Dillon. Made on the 28th Oct 2005.
Congratulations for the site and thanks for sharing!
Comment 62 by Ricardo. Made on the 01st Nov 2005.
OMG....does anyone know of a Sudoku support group? But then, who would want to go and get help for THIS addiction!
Comment 63 by Kelly. Made on the 02nd Nov 2005.
Para todos los castellano hablantes... en http://sudoku.ya.st hay sudokus y todo esta en castellano. Incluso hay un foro y un email por si quereis contactar y solicitar pasatiempos.
Comment 64 by sudokume. Made on the 04th Nov 2005.
love these ones, the normal sudokus just don't cut it challenge wise after being able to solve these beasties!
Comment 65 by Christabel. Made on the 11th Nov 2005.
HI!
My name is Nirali!
your samurai's are great. i do them every week. if you do the middle box first then the whole puzzle will work. keep up the good work.
Comment 66 by Nirali. Made on the 20th Nov 2005.
this sudoku is very fantastic,and entertaiment.
Comment 67 by JORDI GONZALEZ. Made on the 24th Nov 2005.
Este sudoku samurai es muy dificil pero con un poquito de paciencia seguro que se saca... yo soy una de las muchas viciadas al sudoku espero que lo saque preonto porque si me gusta me cojere mas... Un beso de Eider Perez (lasarte - oria) (Guipuzkoa)Y
ps: y espero que pongais mas
Comment 68 by Eider. Made on the 30th Nov 2005.
i am trying to find the solution to samurai 5 puzzle. my computer cannot seem to download it, is there any way someone can send them to me???? i would really appreciate it. thanks.
Comment 69 by reyna. Made on the 27th Dec 2005.
Excellentissime : je connaissais les soirées sudoku et maintenant je deviens 'addict' au samurai : que d'excellentes prises de tête en perspective. Encore merci
Comment 70 by wilfrid PILLARD. Made on the 02nd Jan 2006.
Solution #2 bottom left quad center box has two 5's the center 5 should be a 6.
Comment 71 by Mike. Made on the 05th Jan 2006.
Hello Mike, You are right. I have updated the solution for Samurai 2.
Comment 72 by Daniel (Site Owner_. Made on the 05th Jan 2006.
Hola a todos los sudokuspanish. Estoy interesado en compartir con vosotros nuestra sudokudiversión, por tanto si alguien conoce un enlace, link free que proporcione sudokus, especialmente samurais, espero lo ponga en conocimiento de todos con el fin de compartir nuestra sudokudiversión. Estoy a vuestra disposición en panayat@gmail.com
Comment 73 by Pablo. Made on the 06th Jan 2006.
This site will solve samurai sudoku puzzles:

Samurai Sudoku: www.samurai-sudoku.com


Comment 74 by RobertN. Made on the 02nd Feb 2006.
AWESOME site! Thank you for doing this to keep us addicts going!
Comment 75 by Mickey. Made on the 16th May 2012.
hola. yo logre realizarlos casi todos menos el n°5 que es imposible, no me gusta ver las soluciones sino me gustaria saber como desarrollar este sudoku
Comment 76 by cristian. Made on the 11th Jan 2013.
I'd really like a blank printable Samurai Sudoku grid. When I do the Sunday puzzle of the High-Fives Sudoku in my local newspaper and make a mistake, I need to copy it and start over. A blank grid would really help out. Thanks.
Comment 77 by Polly. Made on the 29th Dec 2013.
Big dick shemales
http://dickgirl.replyme.pw/?profile.bethany
labyboy pics shemalesex free pornagrafic vidios sex free movies free sexuality videos free
Comment 78 by tednf18. Made on the 03rd May 2016.
My gay pictures
http://gay.adultgalls.com/?page_amari
straight gay gay dating site gay swimwear gay mens gay chinese
Comment 79 by maurake4. Made on the 13th May 2016.
Indelicate pctures
http://asses.sexblog.pw/?myah
phone erotical adult erotic literature erotic postcards sex live erotic body art
Comment 80 by imeldaar16. Made on the 19th May 2016.
Fresh gay images
http://men.sexblog.pw/?pg_kole
gay men kissing gay friendly hotel older gays gay help is neyo gay
Comment 81 by franklinum2. Made on the 25th Jul 2016.
Здравствуйде. У нас на ресурсе полезная информация
http://tradebenefit.ru/examples/myredir?site=http://prnbox.ru/zreloe/

Comment 82 by Anthdonibip. Made on the 27th Jul 2016.
Ѕi el paciente no ᥱstá en un tratamiento con Cіɑlis Genérico (Tadаlafil) prеscrito por ᥱl doctߋr, sí puede consumir Cialis (Tadalafil) a ⅼa hora que quiere
y es bueno tomarlo más que nada ɗespués de que sea
estimulado sexualmente, pеro si Ud. algún problema de tipo sexual éste necesita ser tratado ϲomo
se debe. http://www.cerrajeros24hbarcelona.org/poblaciones/cerrajeros-palau-plegamans.html
Comment 83 by www.cerrajeros24hbarcelona.org. Made on the 27th Aug 2016.
титан гель отзывы майл
титан гель официальный сайт россия
что за титан гель
титан гель видео
фото титан гель
титан гель правда https://2pay.pro/titan-gel/
Comment 84 by Morgan. Made on the 12th May 2017.
What is Sudoku?

Sudoku is a Number Puzzle that requires no mathematical knowledge. (no adding or multiplication). It is based upon Japanese style crosswords where you are required to use logic to place numbers onto a 9x9 grid.
Rules

To solve the puzzle you must make sure that every column, row and 3x3 box contains the numbers 1 through to 9. Almost all of the puzzles can be solved using logic alone and there is no need to guess. A puzzle can take from 20 minutes to 2 hours to complete depending on its level and your experience.
Sudoku Fact

For a 9x9 puzzle to have precisely one solution, the initial entries need to include at least eight of the nine digits.
Sudoku Fact

The smallest number of starter clues on a sudoku puzzle is 17.
Sudoku Fact

Sudoku became a world hit in 2005. When measuring its popularity in enigmatic world, it is the biggest phenomenon since Rubik's Cube in the '80s.
Sudoku Fact

Some people call it newspapers saver because it boosts their sales and keeps the reader audience active. Newspapers around the world embraced it immediately because people like to solve Sudoku on a daily basis, just like crosswords.
Sudoku Fact

By playing it regularly you can boost your concentration and focus, prevent or ease depression, dementia and even Alzheimer's disease according to some studies.